It's Easter season again! Time to bring out the pastels and Peeps®. Easter is a cherished time to be with family. With everything happening in the past year due to the pandemic, Easter is a wonderful opportunity to relax and spend special time together. Here is a list of 10 activities you can do as a family to celebrate at home this year.
Make easy Easter crafts for kids.
There are tons of ways you and your children can create DIY decorations for Easter. After all, art is a great way to promote brain plasticity and spend relaxing time with your family to promote healing from this challenging year, according to Isabel Shecter, M.A. in art therapy. It will help you enter Spring with a creative new mindset.
Cute hatching chicks out of paper plates
Sarah Dees, of Frugal Fun for Boys and Girls, created a cute "Hatching Chicks" paper plate craft that you can easily copy at home. Using felt, feathers, and googly eyes, cut out and glue a chick or bunny onto a paper plate. You could also paint or draw the animal if it is more age-appropriate for your child. Take a second paper plate and cut a zig-zag design across it so that it looks like a cracked egg. Glue one half of the "cracked egg" over the bottom of your paper plate with the animal on it, and use a pushpin to stick on the top of the egg so it can open and close. Peek-a-boo!
Potato stamp Easter eggs
For a more colorful activity that allows kids to design their own Easter basket, check out Potato Stamp Easter Eggs designed by The Best Ideas for Kids. The instructional video is mesmerizing and it's an eco-friendly craft (it's also a great conversation starter about upcoming Earth Day!). Just make your stamps (with a parent's help, of course!), paint different designs on your egg stamps, stamp them on a piece of paper, add some glitter, and voila, Easter egg without the cooking and cooling of hard-boiled eggs!
Dye Easter Eggs
Dyeing easter eggs is a rite of passage for Easter time fun. You may be familiar with the easy method of dipping the eggs into dyed hot water, but if you're looking to take your eggs to the next level watch this Crafty Panda video, which has 25 creative ways to dye your egg with little touches such as using a toothbrush or shaving cream (and more!) for fun designs.
Or try this collaged version courtesy Children's Museum of Manhattan:
Materials
Hard-boiled eggs (brown or white)
Newspapers or circulars
Scissors
Glue
Small bowl
Crayons and/or markers
Scrap paper (optional)
Paintbrush (optional)
Instructions
Hard boil eggs that you will decorate.
Look through old newspapers or shopping circulars you get in the mail or from the neighborhood supermarket.
Use scissors to cut out all your favorite images of fruits, veggies, and toys that you can find.
Place a little bit of glue in a small bowl and mix in a tiny bit of water. Mix it well.
Using a paintbrush or your fingers, brush the glue onto your hard-boiled egg and then choose an image from your collection. Place your image on the egg and brush glue on top until it lays flat.
Do this with different colored images. You can do a lot of different layers. Let it dry and enjoy your collaged Easter egg design!
Using the same process cut up scraps of white paper and collage them onto your egg.
When it's fully dry, color it in with your favorite markers and crayons!
Decorate a few eggs and hide them around your house or apartment to have your own Easter egg hunt!
Tip: For little artists with sensory sensitivity, try wearing gloves while collaging your egg.
Create an Easter Treat Candy Carton
With all those eggs you'll be dyeing, you'll have some empty cartons lying around. As an alternative to a large Easter basket, you can make Easter egg cartons. Have your kids decorate their own, or personalize the cartons yourself. Then on Easter eve, fill each container with plastic Easter eggs full of treats or simply add in your favorite Easter candies like Peeps, Cadbury chocolate eggs, Cadbury Mini Eggs, and jellybeans. Your cute little egg carton will be a fun surprise for a loved one.
Make an Easter Basket
Show others that you're thinking of them by making an Easter basket as a family and dropping them off with your friends and other family members. Add a touch of personalization by adding some fillers that are relevant to the recipients. Chocolates and nail polish for your teenage daughter's friend. A bottle of wine or a candle added for your own best friend's basket. Maybe some carrots (ha!) for your health-nut brother. Candy and a toy truck or stuffed animal for a toddler. Have fun with this timeless tradition by making each basket unique!
Cook up a delicious Easter brunch
All that Easter chocolate may have you craving a healthier option for your Easter brunch. Try this Spring Frittata from The Food Network, or whip up one of the below recipes:
Recipe courtesy Maggie Moon, registered dietician
Sweet deviled eggs become inspiring palettes when the kids get to add edible decorations. If you don't mind colored egg whites, you can even use up your excess Easter eggs. Makes 24.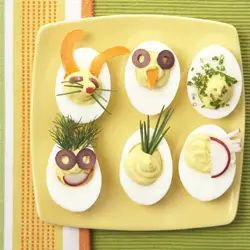 Ingredients
12 hard-boiled eggs, cooled, and peeled
1/3 cup reduced fat mayonnaise
2 teaspoonsDijon mustard
2 teaspoonscider or malt vinegar
1 teaspoon mild mango chutney (optional)
1-2 cups baby greens (optional)
Your choice of toppings (see Topping Options below for ideas)
1 gallon-size zip-top plastic bag
Directions
Cut the eggs lengthwise in half. Gently scoop out the yolks, placing them in a medium sized mixing bowl.
Blend the mayonnaise, Dijon mustard, vinegar and mango chutney (if using) into the yolks. Taste and adjust the mixture (if necessary) by blending in a little more vinegar or chutney.
Spoon the yolk mixture into a gallon-size zip-top plastic bag, carefully squeezing it into one of the bottom corners. Use scissors to clip a small opening in the corner and squeeze out any air pockets. Squeeze the bag to pipe the yolk filling into the egg cups.
Sprinkle or decorate with toppings as desired. Optional: present the deviled eggs nested on a platter sprinkled with the baby greens.
Topping Options:
Thinly sliced carrots, beets, bell peppers, or radishes, halved or quartered cherry tomatoes, sweet paprika, mild curry powder, fresh herbs (dill, tarragon, chives, or basil), sliced pitted black olives, or Spanish olives.
Recipe courtesy Musselamn's Apple Butter
Prep Time: 10 minutes • Cook Time: 10 minutes
Serves: 36
Ingredients
2/3 cup apple butter
2/3 cup barbecue sauce
2 teaspoons Dijon mustard (optional)
1 pound cooked ham, cut 3/4 inch thick
1/2 fresh pineapple
Wood toothpicks
Directions
Preheat oven to 400oF. Pour apple butter, barbecue sauce, and mustard into bowl, and stir to combine.
Cut ham and pineapple into 3/4-inch cubes, about 36 each. Place one pineapple chunk on each toothpick, followed by a chunk of ham. Stand the picks up on baking sheet and brush each one with BBQ sauce mixture. Cover all sides.
Bake for 10 minutes. Serve warm with remaining sauce for dipping.
Courtesy Musselman's Apple Butter
Prep Time: 20 minutes • Cook Time: 1 hour
Serves: 9
Ingredients
2 1/4 cups baking mix (such as Bisquick)
3/4 cup milk
1/2 cup sugar
1 egg
2 tablespoons butter, melted
2 cups apple butter
Topping
1/3 cup sweetened flaked coconut
1/3 cup pecans, chopped
1/3 cup sugar
2 tablespoons butter, melted
Directions
In bowl, stir together baking mix, milk, 1/2 cup sugar, egg and 2 tablespoons of melted butter.
Pour two-thirds of batter into 8-by-8-by-2-inch glass baking dish coated with nonstick cooking spray. Cover with apple butter. Drop remaining batter by spoonful on top.
Combine coconut, pecans, 1/3 cup sugar and 2 tablespoons butter. Sprinkle on top of cake.
Bake at 350°F for approximately one hour, until cake tester inserted in center of cake comes out clean.
Note: Pan will be very full so do not substitute a smaller pan. You may want to place a cookie sheet under the pan in the oven in case of drips.
Cheesy Bacon & Egg Brunch Casserole
Recipe courtesy McCormick
Prep Time: 20 minutes • Cook Time: 40-50 minutes
Serves: 12

Ingredients
8 slices bacon
1 medium onion, chopped (1 cup)
1 loaf (8 ounces) Italian bread, cut into 1-inch cubes (5 cups)
2 cups (8 ounces) shredded cheddar cheese
1 cup shredded mozzarella cheese
1 cup cottage cheese
5 eggs
1 1/2 cups milk*
2 teaspoons mustard, ground
1 teaspoon black pepper, ground
1/2 teaspoon nutmeg, ground
Directions
Preheat oven to 350°F. Cook bacon in large skillet until crisp. Drain bacon on paper towels; crumble and set aside. Remove all but 2 tablespoons drippings from skillet. Add onion to skillet; cook and stir 3 minutes or until softened.
Spread half the bread cubes in 13×9-inch baking dish. Layer with half each of the onion, bacon, cheddar cheese, and mozzarella cheese. Spread evenly with cottage cheese. Top with remaining bread cubes, onion, bacon, cheddar cheese, and mozzarella cheese.
Beat eggs in medium bowl with wire whisk. Add milk, mustard, pepper, and nutmeg; mix well. Gradually pour into baking dish. Press bread cubes lightly into egg mixture until completely covered. Let stand 10 minutes. (*To prep the night before, add an extra 1/2 cup of milk and refrigerate overnight.)
Bake 40 to 50 minutes or until center is set and top is golden brown.
Individual Cheese & Herb Stratas
Courtesy Safest Choice Pasteurized Shell Eggs
Prep Time: 20 minutes • Cook Time: 25 minutes
Serves: 4

Ingredients
8 thin slices prosciutto or deli ham
2 cups French or Italian bread pieces (1-inch pieces)
2 tablespoons melted butter
1/2 cup crumbled goat cheese (see note)
1/4 cup chopped fresh herbs (see note)
8 eggs
Salt
Coarse ground black pepper
Minced bell pepper (optional)
Chopped fresh herbs (optional)
Directions
Preheat oven to 400°F. Butter bottom and sides of four 10 to 12 ounce ramekins or spray with nonstick cooking spray
Line each ramekin with 2 slices prosciutto or ham with some extending over sides.
In large bowl, toss bread pieces and melted butter together. Stir in cheese and herbs. Divide mixture evenly among ramekins pressing down lightly. Break 2 eggs into each ramekin. Add salt and pepper, as desired. Sprinkle bell pepper around eggs, if desired.
Place ramekins on rimmed baking sheet. Bake 25 to 30 minutes, until whites are set and yolks begin to firm, or to desired doneness.
Garnish with additional herbs, if desired.
Notes: Other cheeses, such as cubed mozzarella or cheddar, may be substituted for goat cheese. One or a combination of herbs such as basil, rosemary, thyme, chives, or parsley may be used.
Courtesy National Pork Board
Prep time: 20 minutes • Cook time: 30 minutes
Serves: 6
Ingredients
3 cups ham, shredded and warmed
1 3/4 cups 2% milk
1/4 cup unsalted butter, melted
4 large eggs
1/2 teaspoon salt
1 1/2 cups all-purpose flour
1 Granny Smith apple, halved, cored and thinly sliced
Cheese Sauce
1 tablespoon unsalted butter
1 tablespoon all-purpose flour
1 cup 2% milk
2 teaspoons Dijon mustard
1/4 teaspoon salt
1/4 teaspoon pepper
1 cup white cheddar cheese, shredded
2 tablespoons fresh chives, finely chopped
Directions
Pour milk, butter, eggs and salt in blender. Mix until well combined. Add flour. Mix for 15 to 20 seconds or until smooth. Let stand for 10 minutes.
Heat an 8-inch crepe pan or nonstick skillet over medium heat. Coat well with nonstick cooking spray. Pour 1/4 cup batter into pan, swirl to fully cover bottom of pan. Cook for 1 minute or until crepe begins to curl around edges. Carefully flip and cook for an additional 30 seconds or until set. Transfer to plate. Repeat with additional cooking spray and remaining batter. Layer cooked crepes between pieces of wax paper to prevent sticking.
Lay a crepe on clean work surface. Arrange few slices of apple on quarter of crepe; top with shredded ham. Fold crepe in half to cover filling and fold in half again to create triangular shape. Repeat with remaining crepes, apple and ham. Place on parchment-lined baking sheet and hold in warm oven until ready to serve, or up to 30 minutes.
For cheese sauce, melt butter in saucepan set over medium heat. Stir in flour until well coated. Cook, stirring constantly, for 2 minutes or until pale and smooth. Whisk in milk, a splash at a time, until smooth; stir in mustard, salt and pepper. Cook, stirring constantly, for 5 minutes or until thick enough to coat back of spoon. Remove from heat. Whisk in cheese, a small handful at a time, until melted and smooth.
Place filled crepes on each plate. Spoon cheese sauce over each crepe and sprinkle with chives.
Serving Suggestion: All the elements of the recipe can be prepared a day in advance and gently warmed before assembling.
Make a Sweet "Cinna-Bunny" Treat.
If you're looking for a fun treat to make with your kids, try Cinna-Bunny treats: Bake three cinnamon rolls. Stick two together, forming a snowman-like body, and cut the other in half. Place the two halves near one end of the cinnamon roll, making bunny ears, and then use cream cheese frosting to color your bunny white. You can use chocolate chips or blueberries for eyes.
Have a Virtual Egg Hunt!
The pandemic may have paused some community wide Easter egg hunts, but there are tons of ways to still have one around your home, your yard, or even virtually! A virtual egg hunt is a great way to spend time with family or friends that you can't see in person while also maintaining tradition. Beforehand, the adults can decide where they will hide their plastic eggs filled with treats. The day of the event everyone can log onto Zoom (or whatever your video chat device preference is) and each adult can take turns reading out a clue for the children in their house. The kids will then run around searching for their treasure and whenever they find an egg they can excitedly show it to everyone else on the call. Keep people engaged by ensuring your child is shown on the camera screen (i.e. don't hide eggs in locations that will be hard for people on the camera to see, or make sure to follow your child on their treasure hunt). This is also a great way for children to get some fresh air and run around outside if you have your own yard to hide eggs in. Don't forget to give the winner a well-deserved chocolate bunny!
Spend Some Family Time Outside
Easter is often seen as a time for rebirth and a celebration of life. Feel at peace by kicking off Spring with a family hike in the area and use it as an opportunity to get back in touch with nature and all the rebirth of plants happening around you. Use it as a conversation starter for the various things you are all grateful for this season. You can also plant something new as a celebration—either plant something together in your garden or pick up a houseplant from a local shop (did you know they're good for your family's health?!).
Dance to some Easter tunes.
Burn off your child's Easter candy high by dancing to this 27 minute compilation of Easter music and videos on The Kiboomers YouTube channel. The music is appropriate for preschoolers and kindergarteners.
Watch an Easter-themed family movie.
Once your child is tired out from the day's festivities, you can all hunker down and watch Hop, a PG rated family comedy movie (it blends animation and live action) with a top cast. Fun for all ages, this movie is about E.B. the teenage son of the Easter Bunny who runs off to Hollywood to become a drummer and befriends a slacker played by James Marsden.
Where to stream Hop: Netflix, Prime Video, iTunes, DIRECTV, Google Play, Vudu, YouTube
Read Easter- and Bunny-themed books.
If your children need a distraction while you hide those Easter eggs they can visit @StorytimeAnytime on YouTube to listen to read alouds their favorite Easter stories, such as Pete the Cat: The Big Easter Adventure, with videos of the book's pages.
At the end of your fun day, curl up with some Easter themed stories. Infants will enjoy the classic Pat the Bunny for some tactile fun. Toddlers and preschoolers will enjoy Llama Llama Easter Egg and How to Catch the Easter Bunny. Children ages 7-10 can read Emma the Easter Fairy on their own while you put your younger ones to bed, and children who are ready for chapter books will enjoy Junie B., First Grader: Dumb Bunny.

Read Next | This Is Everything You Need to Find an Amazing Summer Camp Program in Staten Island