This Earth Day, raise awareness and promote support of environmental protection with your family. Here are some fun activities you can do together to teach kids how important Earth Day is.
Go for a walk in nature.
Just make sure you follow proper safety protocol, including wearing a face mask and staying 6 feet apart. Want to do some good while you're enjoying the great outdoors and fresh air? Bring along some gloves and a few bags to pick up any litter you see.
Watch zoo and aquarium livestreams.
Many zoos and aquariums focus their efforts on raising awareness and funds for wildlife conservation—including NYC's Bronx Zoo, Queens Zoo, Central Park Zoo, Prospect Park Zoo, and New York Aquarium, which are all part of the Wildlife Conservation Society. While we can't visit these institutions to teach our children about and support the wildlife conservation efforts, we can watch livestreams of zoos and aquariums from across the country, participate in online Q-and-A's with keepers, and download educational activities.
Plant a garden—no matter what size.
In addition to being a fruitful (or vegetable, ha!) hobby, gardening has physical and mental health benefits for kids and adults. Gardening outside promotes movement (walking, squatting, and lifting), and you'll get plenty of vitamin D—just remember to wear sunscreen! It also "connects us with nature, which has been shown to work wonders for children having a hard time focusing," says Renata Fossen Brown in Gardening Lab for Kids: 52 Fun Experiments to Learn, Grow, Harvest, Make, Play, and Enjoy Your Garden—making it a perfect activity to combat those quarantine stir-crazies. Gardening can also be therapeutic, and it stimulates all five senses, which is beneficial for many children with special needs.
If you have a backyard or small plot of land, try planting one of these 20 plants that are ideal for your kid's first garden. These picks were selected for their vibrant colors, fast-growing characteristics, and usefulness in everyday life. If you're in an apartment with rooftop access or you have a balcony, try planting a salsa garden. A patch of constant sun, a few pots, and tomato, cilantro, jalapeño pepper, and bell pepper seeds are all you need to cultivate the main ingredients for some healthy nacho fixin's. On the other hand, if you want to try something simpler—all you need is a window that gets some light!—try growing a mini herb garden to add fresh seasoning to some of your favorite home-cooked meals.
Stream a kid-friendly nature documentary.
These true-life films are entertaining and captivating for the whole family, but they also educate viewers about nature, the planet, conservation, climate change, and more. Plus, they're all conversation-starters. After watching one of the below kid-friendly documentaries, ask your kids questions about what we can do to protect our planet. (All ratings and reviews listed below are courtesy Common Sense Media.)
Wings of Life
Recommended ages: 6 and older
Available on: Disney+, Fandango Now, Google Play, iTunes, and Vudu
Disneynature's documentary, narrated by Meryl Streep, explains the importance of flowers and the earth's greatest pollinators: bees, birds, bats, and butterflies.
Oceans
Recommended ages: 8 and older
Available on: Amazon, Fandango Now, Google Play, iTunes, Netflix, and Vudu
This documentary takes a close look at the Earth's oceans and the creatures that call it home. Expect scenes depicting these bodies of water in all their glory and reality, and animals finding their place in the food chain (sharks feasting on fish, for instance, accompanied by dramatic music).
Chasing Coral
Recommended ages: 9 and older
Available on: Netflix
This tragic but awe-inspiring film interviews filmmakers and scientists who attribute the decline of one of the ocean's most essential living creatures to climate change.
Cosmos: A Spacetime Odyssey
Recommended ages: 10 and older
Available on: Amazon, Google Play, iTunes, Disney+, and Vudu
This adaptation of Carl Sagan's award-winning TV series Cosmos (1980) continues the show's tradition of offering scientific research-based explanations about the creation of the universe and related phenomena with host Neil deGrasse Tyson.
Make a garden gnome.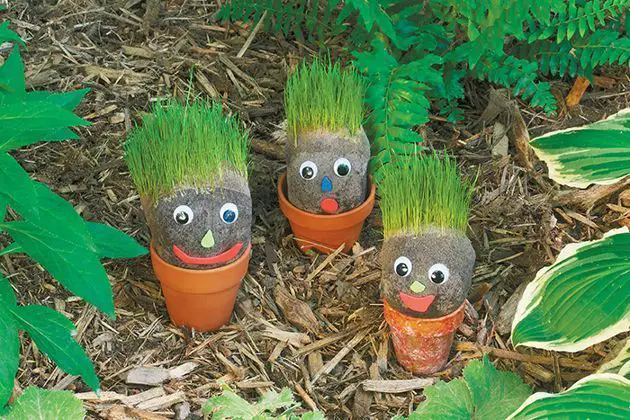 If you do decide to grow a garden this year, or if you want to try growing something small this year before committing to a garden next year, have your kids help make grassy garden gnomes. Think: homemade chia pets!
Watch a movie with your family.
If getting your kids to sit through a documentary is a struggle, try watching one of these movies together. While they all have different storylines, they all touch on topics of climate, preservation, conservation, and nature. (All ratings and reviews listed below are courtesy Common Sense Media.)
Adopt a houseplant (or 10!).
Did you know houseplants are good for your physical, mental, and emotional well-being? And with us spending more time than ever in our homes, it's the perfect time to hop on the houseplant bandwagon to bring a little greenery indoors! Among the many benefits of houseplants?
Some plants can improve indoor air quality.
Being exposed to even a small amount of nature can help kids with school work.
Plants can boost your microbiome.
Caring for houseplants can improve your mood and reduce stress.
Plants teach kids to care for other living things without the commitment of a pet!
Try reducing family waste.
Sure, we all know the mantra 'Reduce, Reuse, Recycle' to limit the amount of trash that goes into landfills, but have you thought about exploring becoming a zero-waste household? While the switch to such a lifestyle can be overwhelming, there are 10 small, simple things you can do every day that will help you live a low-waste life, including:
Switching to reusables containers
Recycling correctly
Composting food scraps
Shopping at a farmer's market

Read Next | Find Great After School Programs in Staten Island
---
Wanna read more stuff like this? Get our newsletters packed with ideas, events, and information for parents in Staten Island.