Get into the spirit of the spooky season with these fun Halloween crafts for kids, many of which can be created from materials you have laying around the house. One of the best parts of Halloween is adorning the house with spooky, ghoulish decorations. These cool and creepy DIYs make great Halloween decorations for your home or your Halloween party.
Here are our favorite Halloween crafts for kids ideas to get you started. They're great for parents, nannies, or babysitters to do with kids.
Click on a category below to jump to that section:
Indoor Decor Halloween Crafts for Kids
Head to the craft store to pick up some foam cones, and white, yellow, and orange yarn to make this candy corn decor! Wrap yarn around foam cones to decorate with your favorite Halloween treat. Alternatively, you could paint the cones. What's more? If you make 10 of these and grab one of your kids' balls, you have an instant Halloween bowling set!
Make a banner out of your favorite Halloween characters. Cut scrapbook paper into triangles and let your kids decorate them into spooky, scary, or silly Halloween-themed characters. Then hang a piece of twine or string and use small clothespins to add the faces to the banner! Bonus: This is also an easy way to create custom banners for birthdays, graduations, or any other parties.
Welcome trick-or-treaters with this super-easy spooky decoration. All you need is tulle, a styrofoam ball, something to hold the ball, spray starch, and black felt.
Creepy, glow-in-the-dark eyes as Halloween decor? Yes, please! Bonus: These are easy to make. Go hunting for some stones with your kids (try to find pairs that are relatively equal in size), then clean them. Next, gather glow-in-the-dark paint, a few extra colors, and paint brushes and get to painting your eyes!
Can't figure out what to do with all those empty soda bottles lying around? Transform them into bottle bats! This relatively easy craft uses recycled materials and items you might just have in your craft box! And if your kids want to flex their creativity muscles, they can use fun colors (think glow-in-the-dark paint!) and find various bits and bobs in the craft box to decorate their bats to give each one a unique personality!
Please your inner witch—or warlock—with an overflowing cauldron. Add fake bugs and spiders for extra ick! Who woulda thought you could use spray insulation foam to create this awesome Halloween decoration?!
All you need is tissue paper, pipe cleaners, and scissors for this easy Halloween craft for kids. Have your little ones make a bunch of these and put them in a bowl on your dining room table, place them on your bookshelves or mantle, or simply scatter them around the house for some Halloween vibes. Plus, these pumpkins won't rot like real ones, so they'll last through Thanksgiving dinner!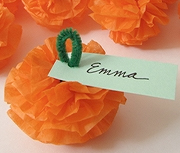 This is a great craft activity for kids to make at a Halloween party or in the days leading up to Halloween. Draw the outline on a big piece of paper, then cut up paint swatches in shades of orange, green, and black, and have the kids glue the pieces down to create a monster-sized mosaic. And you don't have to limit yourself to a jack-o'-lantern, think Frankenstein's monster, a witch, a ghost, candy corn…you get the idea! Or try the smaller-scale version pictured below.
Don't recycle those plastic lids from juice, milk, or salad dressing bottles! Save them to make these creepy creatures for Halloween. Collect the lids starting now, and then come Halloween craft time, give them to your kids, along with a variety of materials for decorations (think: googly eyes in different sizes, pipe cleaners, felt, paper, markers, feathers, beads, and more) and a glue gun. Glue some magnets inside the lids, and you'll instantly have a family of monsters hanging on your fridge!
This simple craft can be made using any kind of paper, but the texture of the sandpaper makes it a fun, sensory experience—especially for kids with visual disabilities.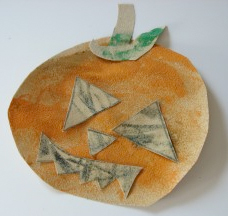 Coat the inside of an empty jar with orange acrylic paint, create a spooky jack-o'-lantern face and you'll have the perfect decoration. Add in a battery-powered tea light for some festive decor, will with candy to give out as a Halloween party favor, or add some flowers for a cute Halloween vase. Not interested in working with paint? You can make similar jars using orange tissue paper!
Paint clean rocks with chalkboard paint, and your kids can draw fun Halloween shapes and phrases on them with this simple craft. Bonus: You can change up the drawings on them for each season, making this a DIY you can use year-round. Have extra rocks? Make story stones with them to stretch your family's imagination muscles.
No Halloween is complete without a haunted house. Here's an easy way for kids to create one using a paper lunch bag. You can decorate your house with these mini haunted houses, or use the decorated bags for your kids' lunches leading up to Halloween!
Got lots of those plastic or paper cups in your pantry? Reuse them to create these cute spider crafts that your kids will love to decorate. Place the spiders around your house, or hang them from string for a spooky Halloween mobile!
Stop by your local dollar store for some clear glass vases or candle holders and let your kids decorate them with paints, ribbons, paper, and more for some beautifully haunting Halloween candles. Then add in some battery-powered tea lights or candles and line your table or windows with them.
This is a classic edible Halloween craft that your kids can hand out to trick-or-treaters, take to school for a Halloween snack, or serve up at your Halloween party. All you need are some clear plastic gloves, popcorn, candy corn, and spider rings, and you're ready to get making!
Transform your house into a haunted house for spooky season with cardboard and black paint! Decide what shapes you want to make (witch silhouettes, ghosts, spooky trees, tombstones, etc) and cut them out of cardboard. Then let your kids help with painting them. Once dry, hang inside on your windows with clear tape, and your neighbors will see a spooky sight!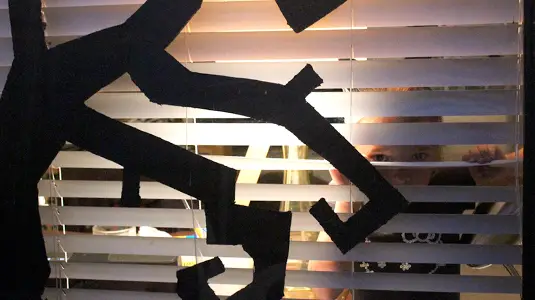 18. Tissue Paper Ghosts
Place a sheet or two of white facial tissue over round lollipops and tie with string or white ribbon just below the pop itself. Make ghost faces with a black magic marker. Hang the ghosts and make them float by attaching longer strings to the ghosts' "necks."
19. Slime…Need We Say More?
Hit the kitchen this Halloween and make a recipe for fun when you learn how to make your own slime. This homemade slime recipe is designed for kids to get their hands dirty, plus it offers sensory stimulation for sight and touch. Prepare to get messy and have a lot of fun with homemade slime.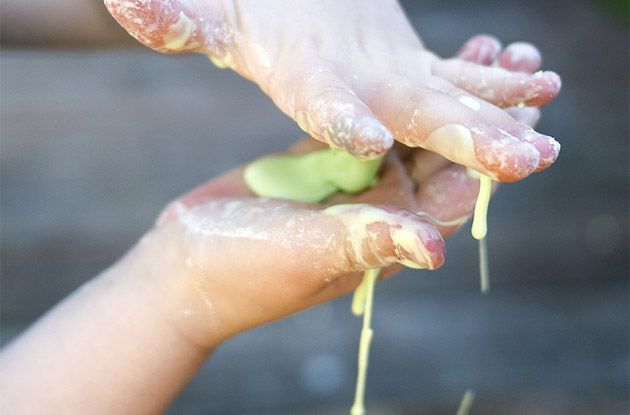 Outdoor Decor Halloween Crafts for Kids
Transform a cute, innocent baby pumpkin into a scary Dracula! All you need is mini pumpkins, plastic vampire teeth (which you can easily find in the Halloween section of any store this time of year), and sewing pins for eyes. Though, you can use anything for eyes, really…think: beads, pompoms, googly eyes, felt…you get the idea!
Here's another recycled craft, this time using empty milk jugs. Give your kids (empty, rinsed out) milk jugs and a marker and have them draw silly or spooky faces on them. Then cut a hole in the back and insert a battery-powered tea light to see the faces come to life at night! Line the walkway to your house with these jugs to welcome enthusiastic trick-or-treaters in style.
Googly eyes, ping-pong balls, and a wreath form are the basics you need to whip up this eye-catching door decoration! After all, if you put googly eyes on anything, you'll make people smile.
Using a similar method to create coffee filter snowflakes, you can turn a boring old garbage bag into an eye-catching spiderweb. It's perfect Halloween decor for your porch or stoop!
Fans of the Wizard of Oz will appreciate this porch decoration. Just stuff some Halloween-themed tights with polyfill, paint an old pair of shoes like ruby slippers, and place the faux legs against the house.
Head to the dollar store and grab some canning jars with lids, glow sticks, and black sharpies to make these cute, colorful decorations! And while the directions call for the glow sticks to be cut open (by an adult!), you could just as easily put the glow stick in the bottom of the jar for a less-messy option. A few things to note from Amanda Formaro, over at Crafts by Amanda: Green and yellow glow sticks work better than other colors and glass markers work better than Sharpies, but either option is fine.
This creepy, feathery, skull wreath is more involved and better to create with older kids, but it's  perfect for your Halloween door. And Karen Bertelsen, the blogger behind The Art of Doing Stuff, was able to source all the materials for this from her local dollar store. It may scare away some trick-or-treaters, but that just means more candy for you!
A great craft for older kids, you can turn an empty paint can into the monster from Frankenstein—then fill it with Halloween candies for the trick-or-treaters, Halloween party attendees, or just you and your kids!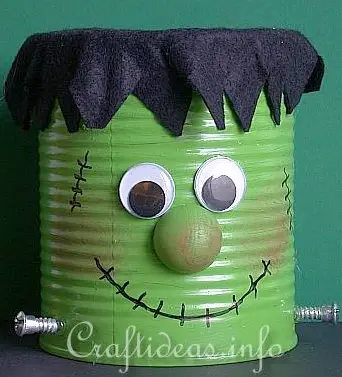 9. Glowing Eyes
Looking for a quick, easy DIY to scare-ify your yard? Try this idea from RustandSunshine.com: Cut eyes into toilet paper tubes, put glow sticks inside the tubes, and stick the glowing tubes in the trees and bushes around your house. Trick-or-treaters will feel like they're being watched!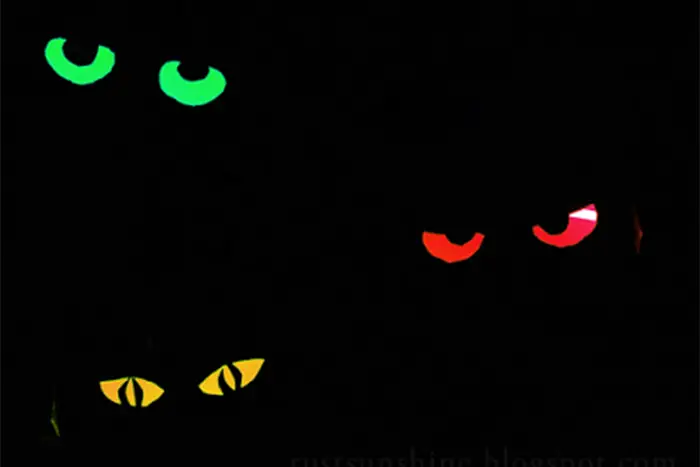 10. Pumpkin Candy Dispenser
Going trick-or-treating with your kids, leaving your door unmanned? Instead of leaving a bowl of candy on the porch, try this: Drill holes in a pumpkin and stick lollipops in the holes.
11. Halloween Duct Tape Doormat
Looking for a fun Halloween decor project? This Duct Tape doormat from Stephanie Morgan, founder and managing editor of Modern Parents Messy Kids, is a great one to do with kids. It teaches them about upcycling and only requires a few supplies.
You'll need:
a well-worn doormat (preferably one you were getting ready to toss)
a few rolls of Scotch® Color & Pattern Duct Tape in Halloween colors
a cutting mat
a straight edge
scissors
tape
Directions
Once you have your supplies, go online and find an appropriate Halloween image. Silhouettes work best—try using the "clip art" filter in Google images to find one that will work.
Use photo editing software, such as PicMonkey or Photoshop, to make the image the same size as your doormat and print the image on several pages and lay it out on your doormat to be sure it will work. Then cut out the silhouette on each "quadrant".
Now it's time to get to taping! Be sure your doormat is clean, pick a background tape color, and start layering strips onto the top of the mat.
Tuck the ends of each strip under so that your mat looks like this.
Layer several strips of black Duct Tape onto your cutting mat and tape the first image quadrant on top and use the straight edge to cut around the silhouette and remove the excess tape. Repeat this process with each quadrant.
Then line up the four black silhouette pieces on top of your doormat. Don't worry if it's not perfect, the tape is very forgiving. If you don't get it lined up perfectly, you can just add another piece of black tape on top.
The last step is to cut out a spooky message and apply it to the top of your silhouette. I added a few black stripes on each side for visual balance and used glow-in-the dark tape for the wicked smile and the, "Boo!". It's quite the creepy look in the dark—perfect for Halloween.
Halloween Crafts for Kids: Costumes
1. Felt Crown
Whether your kid wants to be Max from Where the Wild Things Are or Elsa from—duh!—Frozen for Halloween, they'll need a crown to complete the outfit. Try your hand at a custom, two-sided felt topper that (bonus!) can be used later for imaginary play from Project Kid by Amanda Kingloff.
2. Duct Tape Cape and Mask
Nothing screams DIY quite like Duct Tape—did you know there are scholarships available for teens who make their prom tuxes or dresses out of the sticky stuff? Try your hand at making a Duct Tape cape and mask for a reusable costume (and hey, if you need to fix something, you'll have tape with you!).
3. Paper Animal Masks
Is your kiddie an animal lover? Are they dressing as a cat or bird for Halloween? All you need are pants and a sweater in the color of the animal and one of these DIY masks for a completely homemade costume!
4. Train Costume
Why buy a kid's Thomas the Tank Engine costume this Halloween when you can build one? Using cardboard boxes and crafts supplies, follow this step-by-step guide from a Rockland County mom to DIY a train costume for your child.
5. DIY Animal Costumes
Have a kid who loves frogs or dogs? Check out these two easy costume DIYs. They're seriously easy—they both use hoodie sweatshirts as the base for the costume. What could be easier (and keep your kid warm if it's a chilly Halloween night)? Bonus: These costumes are super budget-friendly!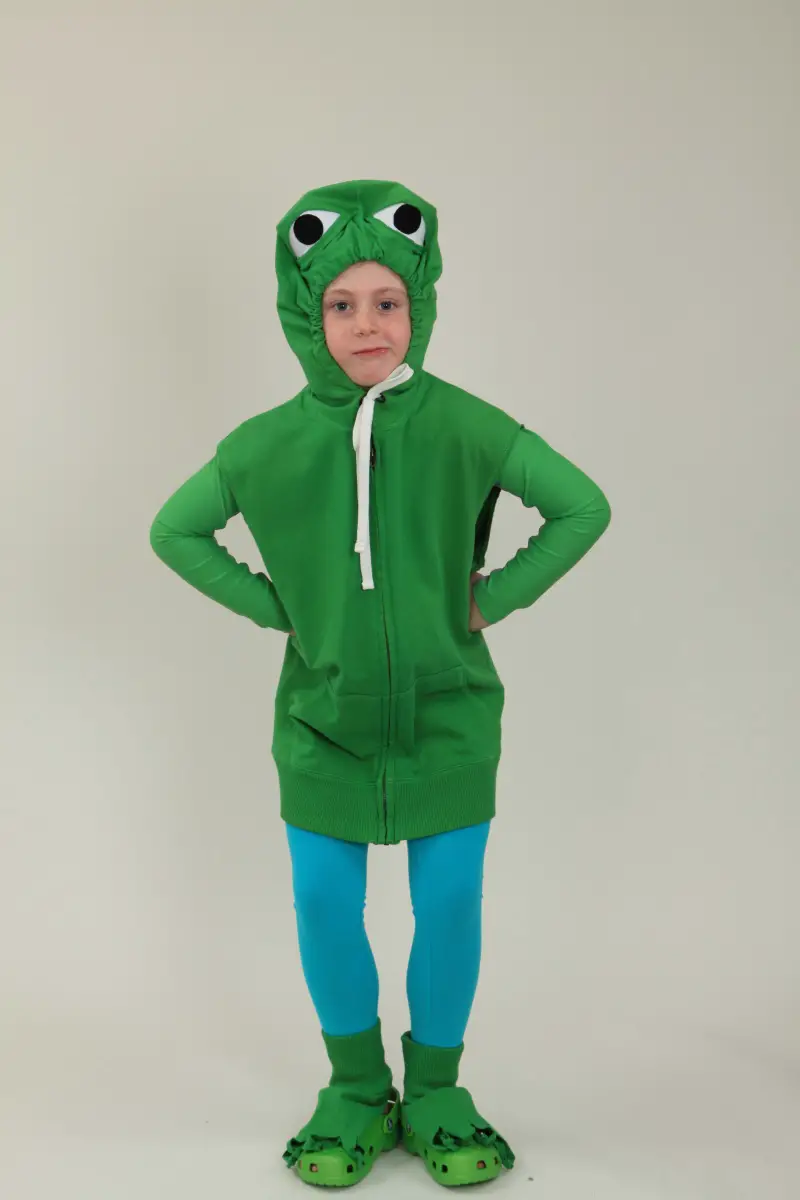 6. Toddler No-Sew Tutu
What could be cuter than a toddler dressed as a ghost, with the focal point of the costume being a tutu?! Find out how to make your own with this DIY from Jennifer Garry, the Westchester mom behind the blog CuddlesandChaos.com. Plus, older kids can easily tackle this DIY on their own if their costume requires a tutu.
7-10. Even More No-Sew Costumes
Local parents share how they made DIY costumes for their kids to dress up as grapes, Waldo, a school bus, and Charlie Brown, Lucy, and Linus.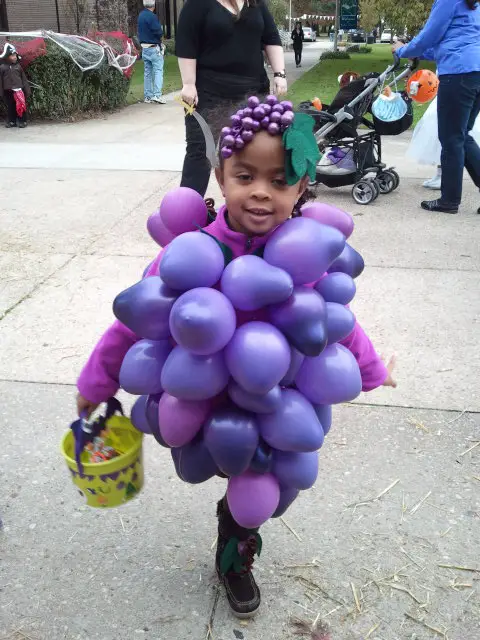 Photo Credit (top of page) Shutterstock / MsMaria
---
Wanna get news like this sent to you? Get our newsletters packed with ideas, events, and information for parents in Staten Island.