The Best Spots to Check out Hudson Valley's Fall Foliage
Fall is here, which means time to soak in all the charms that Autumn brings with it, including gorgeous fall foliage. The first spot to hit for New Yorkers is the Hudson Valley area, just starting to show autumnal hues. So start planning your trip now!
Tip: Want to keep track of the leaves so you can plan your trips? Check out the ILOVENY Fall Foliage report and check out the best places to for leaf peeping Hudson Valley Fall Foliage.
Click on your region to jump to spots near you!
Fall Foliage in Rockland County
Bear Mountain State ParkRoute 9W North, Bear Mountain
Hours: daily, dawn to dusk, open Year-round
Price: $10 per vehicle weekends and holidays, 8am-5pm
Bear Mountain fall foliage is considered a "must-see" in autumn, especially the Perkins Memorial Tower. You can drive up to the 40-foot tall stone look-out tower and climb the steps to the observation windows, or, if you're feeling ambitious, you can hike from a lower point to the top. Drive to the tower for a less strenuous walk and then follow the Bear Mountain Summit Loop hike. Then, once you're done, head over to the Bear Mountain Zoo to visit the animals.
299 Rockland Lake Road, Valley Cottage 
Hours: daily, daylight to dusk
Price: Through Oct. 24: $10 per vehicle Saturday-Sunday 8am-5pm, holidays 8-4:00pm
The park offers hiking trails with breathtaking views of the Hudson Valley and various activities like tennis, golf, grilling, playgrounds, and water features.
21 Gagan Road, West Haverstraw
Hours: Park opened 8am to dusk , weather permitting
Hike, participate in one of the many activities, or view many of the beautiful wildlife creatures like the Belted Kingfisher, Mallard, Canada Goose, Great Blue Heron, Northern Cardinal, American Crow, Blue Jay, Song Sparrow, Great Black-Backed Gull, and the Northern Mockingbird.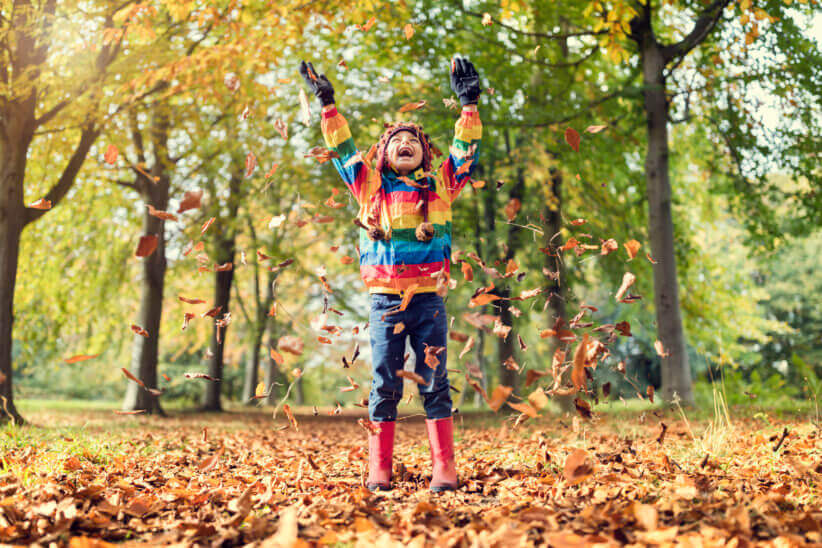 Fall Foliage in Bronx
Van Cortlandt Park South between Broadway and Jerome Avenue, Bronx
Hours: daily, 6am-10pm
Located close to the Bronx/Westchester County line, The Old Croton Aqueduct Trail, the Putnam Trail, the Muir Trail, and the John Kieran Trail provide beautiful native hardwoods to walk through and enjoy the changing fall colors.
Hours: daily, 6am-10pm
London planes, oaks, sassafras, red maples, tulip poplars, sycamores, and beeches line the greenway connecting many NYC parks. The Bronx River Forest is one of the oldest hardwood forests in the city.
Hutchinson River, Long Island Sound between Bronx County Line and Middletown Road, Watt Avenue
Hours: daily, 6am-10pm
Pelham Bay Park is the City's largest park property (yup, bigger than Central Park!). Take the Kazimiroff Trail through 189 acres of Hunter Island by the tall Norway spruces and white pines, which provide a habitat for great horned owls.
1600 Spring Valley Road, Ossining
Hours: Trails: daily, dawn to dusk; Visitor Center: daily, 9am-5pm
This 1,000-acre preserve is home to 15 miles of scenic hiking trails open to the public year-round. Teatown maintains 14 trails across diverse terrain and habitats, including fields, mixed hardwood forests, laurel groves, lakes, streams, swamps, and farmland—giving visitors a unique view of the biological diversity of the lower Hudson Valley. 
Rockefeller State Park Preserve
Hours: daily, dawn to dusk
Price: $6.00 per vehicle collected daily, year-round. 9:00am – 4:30pm
Primarily a hardwood forest, the Rockefeller State Park Preserve is home to oak, tulip poplar, maple, and beech trees. Some of the trees here are more than 150-200 years old! Plus, hemlocks can be found along the 13 Bridges and Witches Spring trails.
Fall Foliage in Orange County
Hours: Wednesday-Monday, 10am-5:30pm
Price: $23-$152, depending on the number of people in the vehicle and day you visit. Tickets are released in two-week blocks and are available on Wednesdays starting at noon; we strongly recommend visiting the site to get your tickets now if you want to visit Storm King to leaf peep.
This 500-acre outdoor museum offers stunning views of hills, meadows, and forests, and the surrounding landscape. The peak fall season runs from September 16 through November 12.
Hours: Through Oct. 30: Monday-Wednesday, 12-8pm; Thursday-Sunday, 12-9pm.
This iconic ice cream creamery has stunning views of Warwick Valley and Greenwood Lake to enjoy while you eat your ice cream.
United States Military Academy, West Point
Hours: daily, dawn to dusk
One of the most visited places at the United States Military Academy, this scenic overlook of the Hudson River Valley has been the subject of many works of art. 
Psst…Best Apple Picking Orchards for Families Near NYC
Hours: Park: daily, dawn to dusk
Price: Vary by activity. See website.
A picturesque landscape offers a variety of amenities for anyone that enjoys what nature and the outdoors have to offer, including campsites, a 40-acre Diamond Lake, 4-acre pond, fishing, boating (car-top boats only), playgrounds, horseshoe pits, volleyball court, picnic shelter, picnic tables, nature trails, grills, ice-skating, ice fishing, and snowmobile trails.
Fort Montgomery State Historic Site
Hours: Wednesday-Saturday, 9am-5pm and Sunday 1 pm to 5 m. Usually closes for the season the third week of October
Price: See website
Montgomery was the scene of a fierce Revolutionary War battle for control of the Hudson River. Visitors today can tour the remains of the 14-acre fortification, perched on a cliff overlooking the magnificent Hudson
Fall Foliage in Dutchess County
81 Vanderbilt Park Road, Hyde Park
Hours: Through October: daily, 7am-7pm
Price: $10
Explore the grounds of the Vanderbilt Mansion high above the Hudson River with amazing views of the Catskills.
Staatsburg State Historic Site
75 Mills Mansion Drive, Road #1, Staatsburg
Hours: check website
Price: $8 adults, $6 students and seniors, free for children ages 12 and younger
The property of the elegant country home of Ogden Mills and his wife Ruth Livingston Mills overlooks the Hudson River and the Catskills.
Tivoli Bays Wildlife Management Area and Research Preserve
Hours: daily, dawn to dusk
Price: Free
Hike along the Hudson River with stunning views of the Catskills.
Hours: Park open year-round; tower open daily, dawn to dusk
Ferncliff Forest Game Refuge and Forest Preserve is a 200 acre forest known as the second-best old growth forest in the Hudson Valley. The forest is available for hiking, camping, mountain biking, skiing, fishing, and picnics at no charge. Plus, there's a tower you can climb for amazing views of the area.
Scenic Hudson's Long Dock Park
Hours: daily, 6am-8pm
Kayak, picnic, stroll through wetlands or simply enjoy the river.
Fall Foliage in Ulster County
Hours: daily, 7am to sunset
This steel cantilever bridge spans the Hudson River between Highland on the west bank and Poughkeepsie on the east. 
Fall Foliage Cruises on the Hudson
Hudson River Adventures – Pride of the Hudson
Hours: See website for cruise schedule
Price: $30; $28 seniors ages 65 and older; $20 children ages 4-11; free for children ages 3 and younger.
Drive to Newburgh to hop aboard the Pride of the Hudson. This two-hour narrated cruise will take you past Washington's Headquarters, Mount Beacon, Bannerman Island, Breakneck Mountain, Cold Spring, World's End, Constitution Island, and West Point. 
Hours: depends on which tour you select
Price: $89-$178
If you prefer to take the river at a slower pace, Hudson River Recreation can put you in charge of your own boat. Your own really small boat, that is. It offers kayak tours on the Hudson departing from Sleepy Hollow, Croton-on-Hudson, and Rye. The tours generally run from mid-May to late September or early October, depending on the weather. Call for the current schedule.