Call it leaf peeping, call it fall foliage, call it looking up at the trees; you'll never be able to describe the beauty of autumn's changing leaves. Here in New York, we are fortunate to see the multicolored trees in a number of places. In the greenest borough known as Staten Island, we have plenty of spots to check them out. Head a little further out and you'll find NYC's parks full of fall's signature hues. For a fun family day out, road trip it out to Hudson Valley to see some seriously spectacular foliage. We've put together a mega list of places to see fall at its finest. Click on the regions below to jump down to that section. Happy fall!
Staten Island Leaf Peeping
Snug Harbor Cultural Center and Botanical Garden
1000 Richmond Terrace
Set on a sprawling 83-acre campus dotted with trees, gardens, museums, historic architecture and so much more, Snug Harbor provides a serene escape from the hustle and bustle of city life. Come fall, delight in seeing the changing leaves in many of the beautiful on-site gardens.
Blue Heron Park
Amboy Road, Barclay Avenue, Hylan Boulevard and Bertram Avenue
This gorgeous park is a hidden gem on Staten Island. Nestled in the heart of the South Shore, it's a great place to enjoy tranquility while taking in beautiful autumn scenes.
The Greenbelt Nature Center
700 Rockland Avenue
Fall into the autumn season at the Greenbelt, Staten Island's 2,800-acre park system. This time of year is great for seeing fall foliage here. You might even see some majestic birds of prey soaring through the sky, including red-tailed hawks and even bald eagles!
Clove Lakes Park
Forest Avenue, Victory Boulevard, bet. Clove Road and Brookside Avenue, Royal Oak Road
Home to beautiful lakes and ponds, trees and more, Clove Lakes Park is a great place to see autumn landscapes. Walk through the park's many pathways, enjoy the changing colors of the leaves and maybe even spot some amazing local wildlife along the way.
Allison Pond Park
Prospect Avenue, N. Randall Avenue and Brentwood Avenue
Stroll through the park and enjoy looking at the golden leaves of autumn along the way.
Silver Lake Park
Victory Boulevard, Clove Road, Forest Avenue
The centerpiece of this North Shore park is its beautiful lake, but there are also plenty of trees with leaves that change color come autumn. Walk through the park or relax on a bench to take in the views of red and golden leaves that are signature of the season.
Where to See Fall Foliage in NYC 2023
nycgovparks.org
Little Neck Bay, L.I.E., Union Tpk, bet. Springfield Blvd, Douglaston Pkwy, Hanford Street, Queens
This park in Queens offers glimpses into New York's history, geologic past, and even its current conservation efforts. Its natural features of freshwater and saltwater wetlands, meadows, and forests create the perfect environment for some leaf-peeping. The park also offers other great amenities such as playgrounds, barbeque areas, and various hiking trails.
334 Furman St, Brooklyn
Offering superb views of Lower Manhattan and the Harbor, this is the perfect mix of nature and the city. With various walkways throughout the park and alongside the river, you are able to pass by several piers with access to some serious fall foliage. This includes the Environmental Education Center, 99 Plymouth, and Jane's Carousel.
5th Avenue to Central Park W, 59th St to 110th Street, Manhattan
New York's most famous spot has a handful of places to admire amazing fall foliage during the season. Go to the 90-acre North Woods located in the northwest corner of Central Park. According to many visitors, this area can be considered the most natural portion of the entire park, making it a perfect escape from the hustle and bustle of the city. To capture some serious colors, walk along The Mall which is located in the middle of the park. It is lined with the largest collection of American Elms. Check out their Fall Foliage map.
Dyckman St, Hudson River, Harlem River S, Manhattan
Located in upper Manhattan, this park honors the history and prehistoric roots of old New York. The park has caves, valleys, and ridges left by the shifting of the prehistoric glaciers. A hiking trail and the Hudson River Bike Trail are open to visitors who want to appreciate this park's natural history and beauty. Especially during the fall season, its forested areas are perfect for fall foliage.
2900 Southern Blvd, Bronx
If you missed leaf peeping upstate, don't fret when NYC has one of the best woodsy spots at the New York Botanical Garden. The garden consists of 250 acres in the Bronx, which is no more than an hour-ish train ride away for many. Fall Foliage tours run until November 30, 2023 and our free with garden admission. Check the site, bbg.org at seasonal highlights for the listed tours.
Prospect Pk W, Flatbush, Parkside, Ocean Aves, Brooklyn
A 585-acre park nestled in Brooklyn serves as the ultimate spot for nature and admiration for some fall foliage. The amenities in the park like ice skating at LeFrak Center at Lakeside( usually opens by mid-November but always check site to be safe), Prospect Park Zoo and the playgrounds are perfect for a full day of family fun.  Whether you are looking to go for a stroll or a bike ride, the park offers everything you need to enjoy the fall season.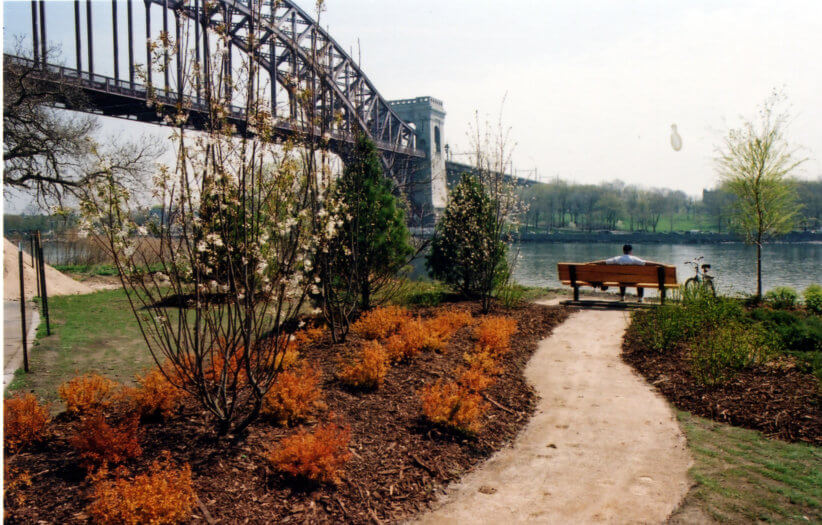 20 Randall's Island Park, New York
Randall's Island Park has various ways to enjoy its recreational space. There are approximately ten miles of biking trails and pedestrian pathways, making it a getaway to admire nature while in the city. Over nine miles of waterfront pathways and all passive recreational activities are available, as of now barbecuing and grilling areas are open but there are specific areas, we suggest visiting the general information page on the randallsisland.org page if planning to barbeque .
43-50 Main St, Flushing, Queens
A New York Family favorite – this garden located within Flushing Meadows-Corona Park is a quick train ride away for an autumn Saturday of leaf-peeping. Make sure you check out what events are happening the day you visit, like Fall Bird Walks with NYC Audubon (visit queensbotanical.org calendar for dates)-many included with admission or a small fee.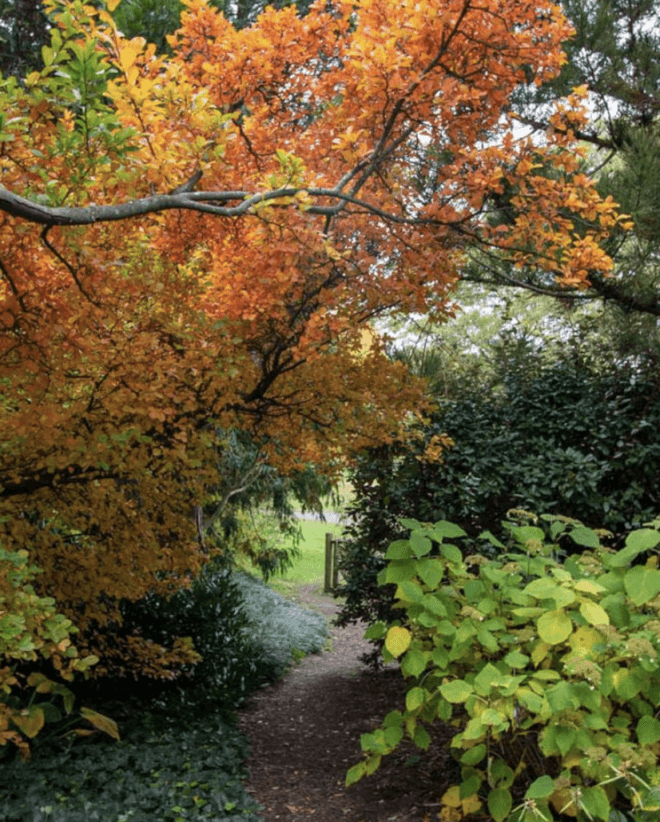 4900 Independence Ave, Bronx
A botanical garden that surrounds the Wave Hill House, which dates back to the mid-19th century this spot in the Bronx offers views overlooking the Hudson River. If you're looking to take a Fall walk, check out the tours at wavehill.org at the calendar section where you can find tours like the Garden Highlights walk (free with admission) or Bird watching walks which are usually $15.

nycgovparks.org
Broadway and Van Cortlandt Park S, Bronx
Ranked as New York City's third-largest park, Van Cortlandt park spans over a thousand acres with ridges and valleys highlighting the Bronx. With various playing fields and playgrounds scattered throughout the park and oak forests surrounding them, it creates a wonderful atmosphere for an autumn trip.
The Best Spots to Check out Hudson Valley's Fall Foliage
Tip: Want to keep track of the leaves so you can plan your trips? Check out the ILOVENY Fall Foliage report and check out the best places to for leaf peeping Hudson Valley Fall Foliage.
Click on your region to jump to spots near you!
Fall Foliage in Rockland County
Hours: daily, dawn to dusk, open Year-round
Price: $10 per vehicle weekends and holidays, 8am-5pm
Bear Mountain fall foliage is considered a "must-see" in autumn, especially the Perkins Memorial Tower. You can drive up to the 40-foot tall stone look-out tower and climb the steps to the observation windows, or, if you're feeling ambitious, you can hike from a lower point to the top. Drive to the tower for a less strenuous walk and then follow the Bear Mountain Summit Loop hike. Then, once you're done, head over to the Bear Mountain Zoo to visit the animals.
299 Rockland Lake Road, Valley Cottage 
Hours: daily, daylight to dusk
Price: Through Oct. 24: $10 per vehicle Saturday-Sunday 8am-5pm, holidays 8-4:00pm
The park offers hiking trails with breathtaking views of the Hudson Valley and various activities like tennis, golf, grilling, playgrounds, and water features.
21 Gagan Road, West Haverstraw
Hours: Park opened 8am to dusk , weather permitting
Hike, participate in one of the many activities, or view many of the beautiful wildlife creatures like the Belted Kingfisher, Mallard, Canada Goose, Great Blue Heron, Northern Cardinal, American Crow, Blue Jay, Song Sparrow, Great Black-Backed Gull, and the Northern Mockingbird.
Fall Foliage in Orange County
Hours: Wednesday-Monday, 10am-5:30pm
Price: $23-$152, depending on the number of people in the vehicle and day you visit. Tickets are released in two-week blocks and are available on Wednesdays starting at noon; we strongly recommend visiting the site to get your tickets now if you want to visit Storm King to leaf peep.
This 500-acre outdoor museum offers stunning views of hills, meadows, and forests, and the surrounding landscape. The peak fall season runs from September 16 through November 12.
Hours: Through Oct. 30: Monday-Wednesday, 12-8pm; Thursday-Sunday, 12-9pm.
This iconic ice cream creamery has stunning views of Warwick Valley and Greenwood Lake to enjoy while you eat your ice cream.
United States Military Academy, West Point
Hours: daily, dawn to dusk
One of the most visited places at the United States Military Academy, this scenic overlook of the Hudson River Valley has been the subject of many works of art. 
Hours: Park: daily, dawn to dusk
Price: Vary by activity. See website.
A picturesque landscape offers a variety of amenities for anyone that enjoys what nature and the outdoors have to offer, including campsites, a 40-acre Diamond Lake, 4-acre pond, fishing, boating (car-top boats only), playgrounds, horseshoe pits, volleyball court, picnic shelter, picnic tables, nature trails, grills, ice-skating, ice fishing, and snowmobile trails.
Hours: Wednesday-Saturday, 9am-5pm and Sunday 1 pm to 5 m. Usually closes for the season the third week of October
Price: See website
Montgomery was the scene of a fierce Revolutionary War battle for control of the Hudson River. Visitors today can tour the remains of the 14-acre fortification, perched on a cliff overlooking the magnificent Hudson
Fall Foliage in Dutchess County
81 Vanderbilt Park Road, Hyde Park
Hours: Through October: daily, 7am-7pm
Price: $10
Explore the grounds of the Vanderbilt Mansion high above the Hudson River with amazing views of the Catskills.
75 Mills Mansion Drive, Road #1, Staatsburg
Hours: check website
Price: $8 adults, $6 students and seniors, free for children ages 12 and younger
The property of the elegant country home of Ogden Mills and his wife Ruth Livingston Mills overlooks the Hudson River and the Catskills.
Hours: daily, dawn to dusk
Price: Free
Hike along the Hudson River with stunning views of the Catskills.
Hours: Park open year-round; tower open daily, dawn to dusk
Ferncliff Forest Game Refuge and Forest Preserve is a 200 acre forest known as the second-best old growth forest in the Hudson Valley. The forest is available for hiking, camping, mountain biking, skiing, fishing, and picnics at no charge. Plus, there's a tower you can climb for amazing views of the area.
Hours: daily, 6am-8pm
Kayak, picnic, stroll through wetlands or simply enjoy the river.
Fall Foliage in Ulster County
Hours: daily, 7am to sunset
This steel cantilever bridge spans the Hudson River between Highland on the west bank and Poughkeepsie on the east. 
Fall Foliage Cruises on the Hudson
Hours: See website for cruise schedule
Price: $30; $28 seniors ages 65 and older; $20 children ages 4-11; free for children ages 3 and younger.
Drive to Newburgh to hop aboard the Pride of the Hudson. This two-hour narrated cruise will take you past Washington's Headquarters, Mount Beacon, Bannerman Island, Breakneck Mountain, Cold Spring, World's End, Constitution Island, and West Point. 
Hours: depends on which tour you select
Price: $89-$178
If you prefer to take the river at a slower pace, Hudson River Recreation can put you in charge of your own boat. Your own really small boat, that is. It offers kayak tours on the Hudson departing from Sleepy Hollow, Croton-on-Hudson, and Rye. The tours generally run from mid-May to late September or early October, depending on the weather. Call for the current schedule.